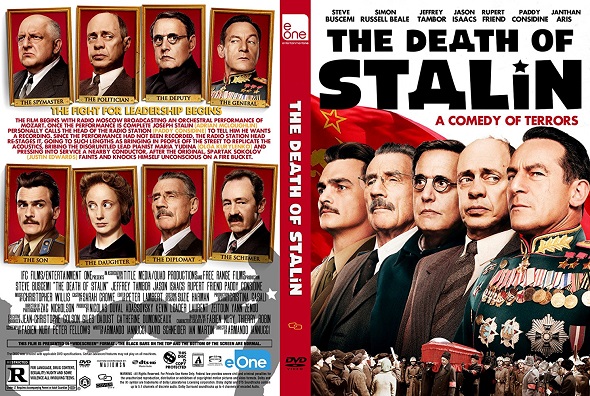 Ztratili jsme Stalina / The Death of Stalin (2017)
BRRip/CZ
Keď je môj súbor zaheslovaný tak použite WINRar 5 a vyšší!!! Heslo je vždy: marat
FORCED Titulky CZ zabalené vo WINRar!!!
The Death of Stalin

Ztratili jsme Stalina
Komedie / Drama

Velká Británie / Francie / Belgie, 2017, 106 min
Režie: Armando Iannucci
Předloha: Fabien Nury (komiks), Thierry Robin (komiks)
Scénář: Armando Iannucci, David Schneider, Ian Martin
Kamera: Zac Nicholson
Hudba: Christopher Willis
Hrají: Steve Buscemi, Jeffrey Tambor, Simon Russell Beale, Jason Isaacs,
Andrea Riseborough, Olga Kurylenko, Paddy Considine, Rupert Friend,
Michael Palin, Dermot Crowley, June Watson, Elaine Claxton, James Barriscale,
Paul Whitehouse, Tom Brooke, Paul Ready, Roger Ashton-Griffiths, David Crow
Kód:
https://www.csfd.cz/film/441489-ztratili-jsme-stalina/prehled/
5. března 1953 umírá muž. Tím mužem je Josef Stalin. Po jeho skonu vypuká v řadách jeho nejbližších
naprostý zmatek a panika. Na to, co nastane po skonu velkého vůdce, se dosud báli jen pomyslet. Vždyť
Lenin byl, je a bude vždy živý. Proč by nemohl i Stalin? Během jeho života se soustředili především na to,
jak jej přežít. A teď se začnou naplno projevovat absurdní a pokřivené charaktery všech těchto Stalinových pohrobků.
Začíná boj o veškerou moc nad komunistickou říší, která do této chvíle patřila jen a pouze brutálnímu diktátorovi.
O nejvyšší post nebo aspoň o bezpečné místečko pod ním se perou ti, kteří se za dobu Stalinovy krutovlády dokázali
zbavit jakéhokoli vlastního názoru. Stále se ujišťují, co by tomu nebo tamtomu řekl Stalin, a co by se jim za to asi
tak mohlo stát. Povýšení? Gulag? Provaz? Koho se mají bát teď? Jedni kují pikle proti druhým a do toho společně
organizují okázalý diktátorův pohřeb.
SCREEN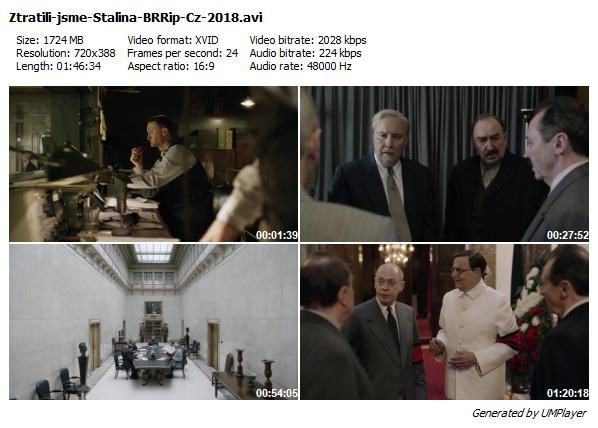 MediaInfo:
General : C:\Film avi\AVI\Ztratili-jsme-Stalina-BRRip-Cz-2018.avi
Format : AVI at 2 262 kb/s
Length : 1,68 GiB for 1 h 46 min 34 sek. 500 ms
Video #0 : MPEG-4 Visual at 2 029 kb/s
Aspect : 720 x 388 (1.856) at 24.000 fps
Audio #0 : AC-3 at 224 kb/s
Infos : 2 kanály, 48,0 kHz
Kód:
http://www.fastshare.cz/10430527/stalin18.rar

http://download.hellshare.sk/stalin18-rar/73701256/

https://webshare.cz/file/50F3cs6OS4/

https://uloz.to/!nD3nOGlryVac/stalin18-rar

http://sdilej.cz/10430586/stalin18.rar
Citovať príspevok:
Heslo je : marat
Keď vám winrar pri rozbalovaní ukáže nesuhlasí crc tak najprv zaškrtnite položku
,,Ponechať poškodené subory"a keď to nepomože tak použite zaznam na opravu,dat je tam 5%.
(v hornej lište Nástroje - Opraviť archív)V tomto prípade WinRar vytvorí opravený súbor,
ktorý začína slovom "fixed".Tento výraz je ale potrebné zmazať po oprave a rozbalit vo win rar.
Alebo použite 7zip ten to rozbali bez problémov!!!